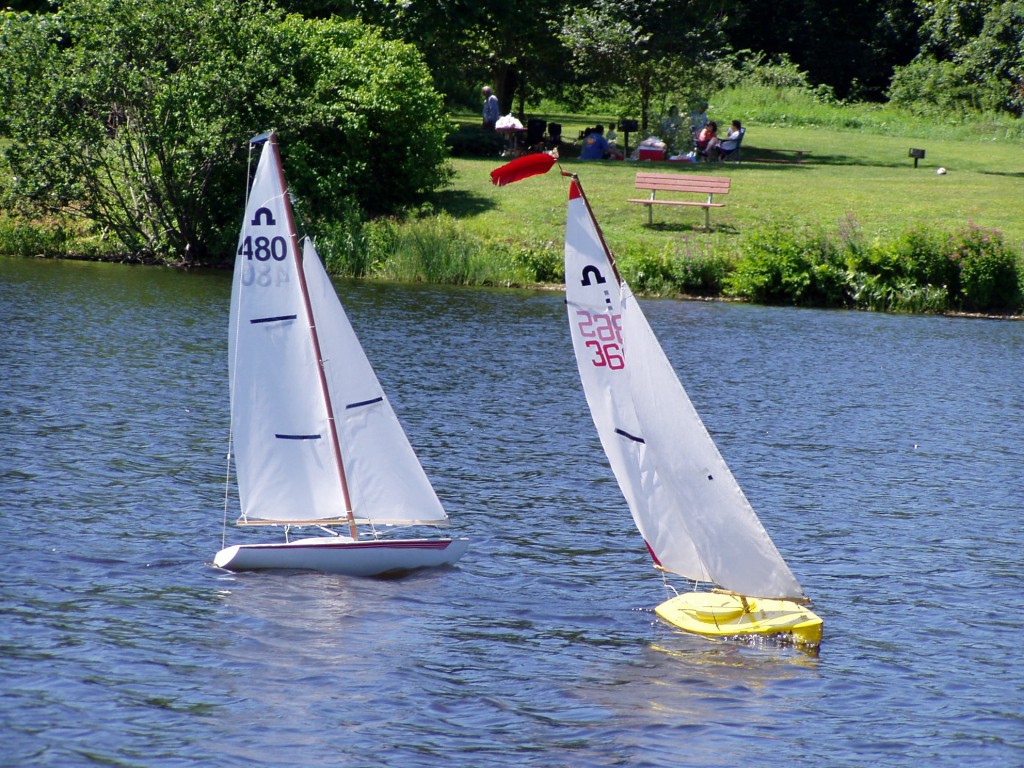 Soling One Meter
Length: 39" Beam: 9" Weight: 10 lbs.
Height (Top of mast to bottom of keel): 65"
Available as a kit from Victor Model Products. A good all weather boat using one standardized sail plan, with fairly tight class rules that keep cost to a minimum. Moderate performance, at its' best in medium and higher winds, but well balanced and easy to sail in all conditions. Kit construction requires a reasonable skill level, and research plus advice from experienced builders is recommended to construct the most competitive boat. Total cost, excluding transmitter, will be in the $200 range. The Soling 1M is, in numbers, the largest AMYA class, and is a semi-scale version of the Olympic Soling class boats. Along with the Seawind, she's a good choice as a first boat.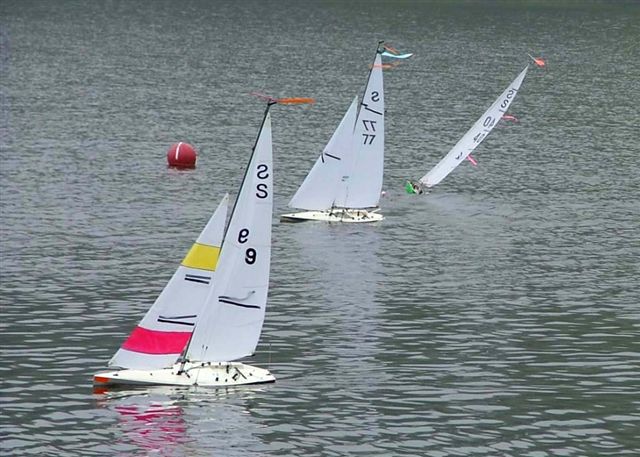 Seawind
Length: 39" Beam: 9" Weight: 6.5 lbs.
Height (Top of mast to bottom of keel): 74"
Sold as a very complete kit by Kyosho, the Seawind is by far the easiest boat to assemble, requiring minimal skills and only a few hand tools. Strict class rules allow no deviations from the kit instructions which would affect performance. An excellent light and medium air boat, falling between the Soling 1M and US One Meter in performance, she is styled after the America's Cup boats of the 1990's. Cost, without transmitter, is approximately $325. As with the Soling 1M, the Seawind would make a good choice as a first boat.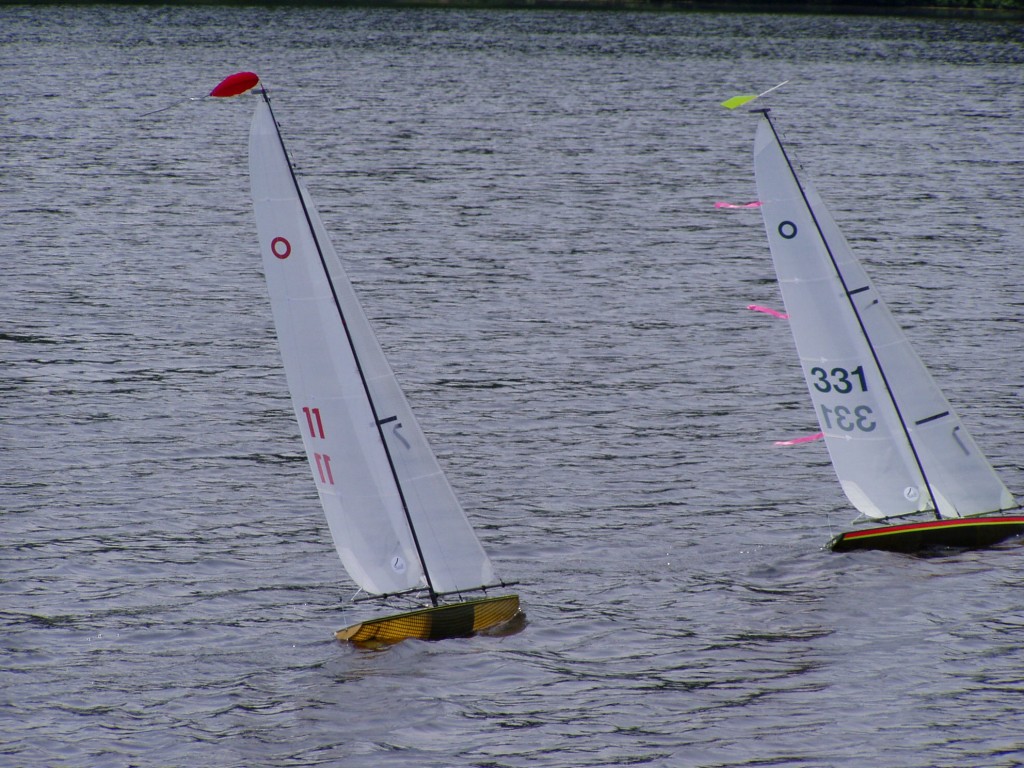 US One Meter
Length: 39" Beam: 6" to 8" typical Weight: 5.5 to 7 lbs typical
Height (Top of mast to bottom of keel): 83" typical maximum
Although the same length as the Soling One Meter and Seawind, the US One Meter is a "development" class restricted in design to only a few maximum dimensions. Designs will vary a great deal, and in general this is a "high tech" and higher performance boat than the other two. Boats will normally require two or three sail rigs of differing heights, to be competitive in all conditions, and today's US 1M's will typically be constructed of carbon fiber and Kevlar for hulls, fins, and spars. Most builders use components that are purchased from a variety of sources, or are scratch built, though complete boats are available. Cost can range from about $600 for a scratch built boat, to $1400 or more for a ready to sail boat, excluding transmitter.
Most people will not choose the US One Meter as a first boat.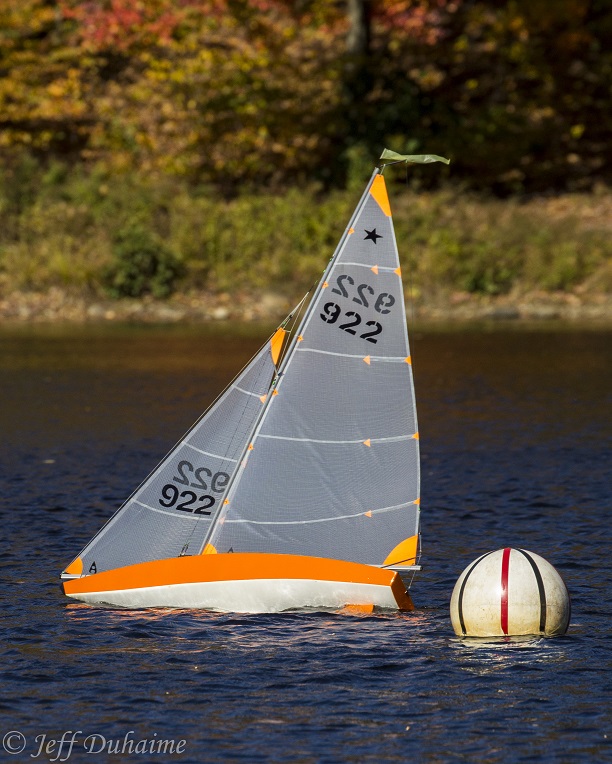 Star 45
Length: 45" Beam: 11" – 12" Weight: 12 lbs
Height (Top of mast to bottom of keel): 85"
A semi-scale version of the International Star class boats, the Star 45 sails extremely well in a wide range of wind conditions. It is a One Design class that does allow some latitude in keel and rudder design, and while her standard sail plan is all most skippers will need, there is allowed a "storm rig" for the most severe sailing weather. The large majority of Star 45's today are built with fiberglass hulls (with fiberglass or wood decks), but competitive boats can be constructed of all wood as well. Either way, many skippers are attracted to the Star 45 for her traditional good looks and excellent sailing manners. Boats may be built from available components, and complete boats are also available.Costs will range, without transmitter, from about $500 for a home built Star, to around $1400 ready to sail.